From 12th to 16th of October, the International Federation of the Red Cross/Red Crescent (IFRC) organized a workshop in Bangkok. It was a "Lessons Learned and Monitoring/Evaluation" workshop of Community Based Health Programs within the Asia/Pacific Zone.
All together 40 participants from all over Asia came together to discuss their experiences and lessons learned of their implementing community health projects. In Timor-Leste a Water/Sanitation project with community based health components is implemented by CVTL (Cruz Vermelha de Timor Leste/East Timor Red Cross). Austrian Red Cross, with funds from the European Commission, is supporting CVTL with the implementation (technical inputs/support).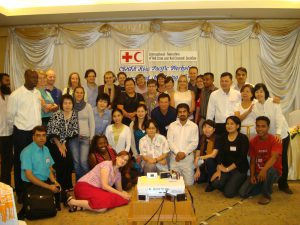 From Timor-Leste, the Health Coordinator of CVTL, our Health Project Officer, the Federation Health Delegate and myself participated and my Timorese colleagues presented the ongoing health projects.
It was very interesting to hear that experiences among Timor-Leste and other Asian countries are similar and to have group discussions about future possibilities to improve project implementation in the future. Especially, since I only started my mission in Timor-Leste two months ago, I was able to gain a good overview of ongoing projects within the region and the key successes others of the new Community Based Health project approach the Federation was introducing last year.
Overall, it was a creative, interactive as well as challenging week as we developed recommendations and future steps to ensure continuous success of health project implementation. Further, we discussed about ways to monitor and evaluate them accordingly.
Best greetings from Dili – ate logu!
martha